Who We Are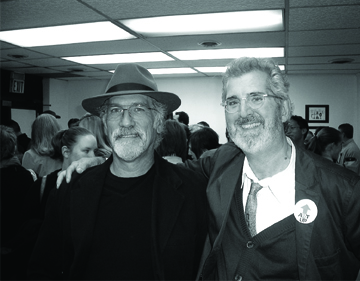 Gary Huck, right, retired as the political cartoonist for the United Electrical, Radio and Machine Workers of America (UE), in 2015. Gary succeeded the great Fred Wright after Fred's death in 1984. His work has appeared in Business Week, the Washington Post, and The Center for American Progress and a wide range of other publications. He has exhibited nationally and internationally, including the 1199 Gallery, New York City, The Salon of Cartoon Art, San Antonio, Cuba, The Warhol Museum, Pittsburgh, PA, The Mattress Factory Museum, Pittsburgh, PA and The Museum of Cartoon Art, San Francisco, CA.
Huck and Konopacki's original cartoons are in the permanent collection of New York University's Tamiment Institute Library & Robert F. Wagner Labor Archives.
Mike Konopacki, left, graduated from the University of Wisconsin in 1974 with a Bachelor of Arts degree in Political Science. He began labor cartooning for the Madison Press Connection, a local daily created by striking newspaper workers in 1978. In 1983 he and Gary Huck created Huck/Konopacki Labor Cartoons, syndicating their cartoons to the labor press in the U.S. and Canada.
Since that time they have published seven collections of labor cartoons, Bye! American, THEM, MAD in USA, Working Class Hero, Two Headed Space Alien Shrinks Labor Movement, American Dread and the latest Torn. With Alec Dubro Mike has written and drawn comic books and comics on the World Bank, welfare reform and union organizing.
Mike is co-author and illustrator of Howard Zinn's graphic history A People's History of American Empire. In May of 2009 Mike earned his Master of Arts from the University of Wisconsin – Madison Art Department. In 2010, Mike completed his Master of Fine Arts from the UW-Madison.
---
Due to the precipitous decline of the U.S. labor press ,Huck/Konopacki Labor Cartoons has discontinued its subscription service. Individual cartoons can still be purchased through our website. Payment for individual cartoons used can be made through PayPal.
Gary and Mike are still available to provide cartoon workshops for labor conferences. Our workshops include:
Give Your Boss and Art Attack: Teaching union members how to use graphics and visual techniques in campaigns (Organizing, Education, Health and Safety, etc.)
Cartooning: Teaching labor cartooning to labor communicators.
Collage Art: You don't have to be a cartoonist to cut out graphics from magazines and paste up your own poster. Anyone can do it!
The Incomplete History of Labor Cartoons: A forty-five minute PowerPoint presentation on the history of Labor Cartoons from Paul Revere to the present.
Fee: Our fee is $600 per day per cartoonist plus travel expenses. E-mail us for more details: [email protected].