Billy Bragg Saved Joe Hill from being Shocked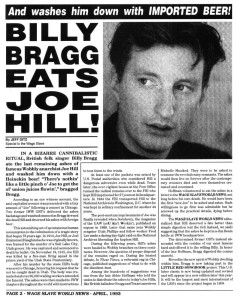 In 1993, the Industrial Worker (official newspaper of the IWW) included a supermarket tabloid insert dubbed the Wage Slave World News. One of our most famous stories was Billy Bragg Eats Joe Hill. Now we find out that not only did Bragg swallow Joe's ashes, he also saved the remains of the remains from future imprisonment in Michelle Shocked.
In 1989, a surviving envelope of Joe Hill's ashes was found the the National Archives. The IWW wondered what to do with them. Famous Yippie Abbie Hoffman wrote that to preserve Hill's legacy, modern day folk singers like Billy Bragg and Michelle Shocked should consume the "corpus anarchi." After they die, their ashes could be consumed by future radical labor singers and thusly, Joe Hill would live forever. "I Never Died, Said He," would truly ring true.
In a 2010 interview with NUVO, an indy media source in Indianapolis, Billy explained how he saved Joe from Michelle, "Now, Abbey had actually said, people like Billy Bragg and Michelle Shocked should eat them. So they gave me another bit for Michelle Shocked, which I had folded in a page in the Little Red Songbook in a little plastic wallet. And I haven't seen Michelle since, and subsequently, I think she's become a born-again Christian, which I have absolutely no problem with, but that's her business. I thought, maybe, perhaps, she may not be the person that Joe had in mind. So as part of a UK tour, when Otis came to the house with his IWW hat, I suddenly thought, Now's my chance to do my duty to Joe and for Abbey and the Wobblies. So I offered Otis a chance to partake of the body of Joe, and he did, and so he's part of it too now. And I can't think of a better candidate, quite frankly, for keeping alive the flames of the IWW. It was very, very pleased to be able to do that."
Otis is Otis Gibbs. In 2010 he recorded an album entitled "Joe Hill's Ashes." Here's the title song on YouTube (http://www.youtube.com/watch?v=YkCwYUl_Gh8). How come I never heard of this guy before?
Thank you Billy and Otis for preserving the life of Joe Hill. Future radical singers look forward to your pending cremations.