Gatehouse Publix Pandering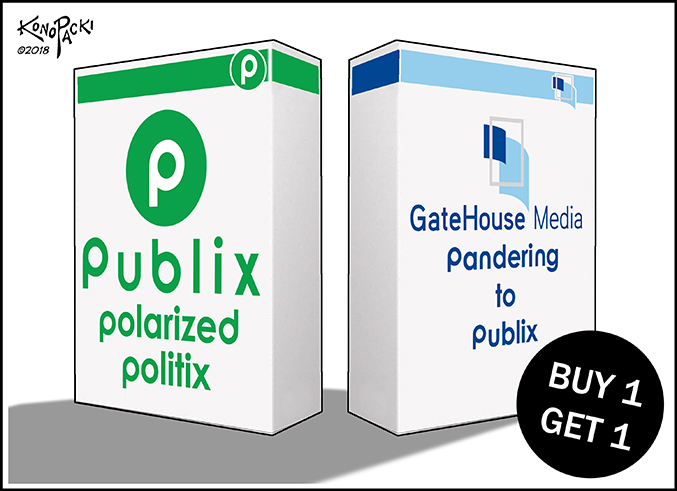 The website Deadspin created a viral sensation earlier this year when it stitched together a video showing dozens of local TV news anchors spouting an identical pro-Trump editorial bashing "fake news." The stations, owned by Sinclair Broadcast Group, were forced to air corporate-mandated "must-runs," advocating Sinclair's right-wing political views.
Recently the Tampa Bay Times broke a story that Publix Supermarkets had contributed $670,000 to Adam Putnam, the Florida Commissioner of Agriculture who is in a battle with Rep. Ron DeSantis for the GOP's gubernatorial nomination. In an effort to claim the extreme right-wing vote, Putnam tweeted that he is a proud #NRASellout! Survivors of the Parkland massacre were outraged and called for a boycott of Publix and staged die-ins at their stores.
But what the many Florida newspapers owned by Gatehouse Media did next was eerily Sinclair-like. Virtually every Gatehouse newspaper from Jacksonville's Florida Times-Union, the St. Augustine Record, Sarasota Herald Tribune, Ocala Star-Banner, Daytona Beach News Journal, the Lakeland Ledger and the Panama City News Herald ran the identical editorial defending Publix.
The editorial, entitled "Publix learns politics isn't a pleasure," quoted Publix spokesman Brian West's rationale for their support of Putnam, "Publix has had a long-standing relationship with Commissioner Putnam. We support pro-business candidates, and believe Commissioner Putnam will make a great governor." The Gatehouse editorial defended Publix's lavish campaign spending and praised its philanthropy, "Let's not forget that Florida's largest private employer is also one of its leading corporate citizens, contributing millions of dollars each year to house the homeless, feed the hungry, support the developmentally disabled as well as promote literacy, the arts and youth sports."
Let's not forget that Publix is also one of Gatehouse's largest advertisers.
Thankfully some Florida papers rejected the love fest. Both the Tampa Bay Times and the Miami Herald chided Publix for its polarizing politics. Jacksonville's alternative Folio Weekly pointed out that Putnam's immigrant bashing clashes with Publix campaign to court Latinos. The Miami New Times gave other reasons to boycott Publix besides the NRA; Their refusal to support the Immokalee farm workers' Fair Food Program that calls for better wages and an end to sexual harassment in the fields; Publix's discrimination against LGBTQ employees and its refusal to cover anti-HIV drugs; Publix's fight against local minimum wage laws and environmental protections, and its penchant for donating to other gun-loving Republicans.
However, one Gatehouse paper, the Palm Beach Post, refused to kneel to the beloved Publix. It's editorial reminded readers that, "As agriculture commissioner, Putnam oversees regulation of Publix's 800 Florida stores. When a TV station (WFTF Tampa Bay) reported in 2016 that seven Tampa-area Publix stores failed health inspections, Putnam responded the next day by pulling the inspections from the department's website and eliminating the pass/fail grading system. He replaced it six months later with a new rubric. Instead of a failing grade, the worst rating issued now is 're-inspection required.' "
Gatehouse Media dismisses money-in-politics as democracy and describes criticism as "an attempt to slime" Publix. But big money breeds corruption and criticism brings results. After LGBTQ groups protested, Publix reversed its HIV decision. After the die-in protests, Publix announced that it was suspending its political contributions.
With Publix out of the picture, what will Gatehouse Media do? Perhaps it will issue a "must-run" ordering all its newspapers to endorse Putnam for governor.
Mike Konopacki