Season of Treason
Recently the St. Augustine city commission voted to remove the confederate monument from the Plaza de la Constitución. Since that time there have been numerous protests by the local confederates and harassment of city workers preparing the removal.
Lest we forget, a monument to confederate veterans is really a monument to traitors. Below is a cartoon from 1865 welcoming Jefferson Davis (aka the Chas-ed Old Lady of the C.S.A.) to Hell to be reunited with Benedict Arnold, another famous traitor. Below is the description from the Library of Congress.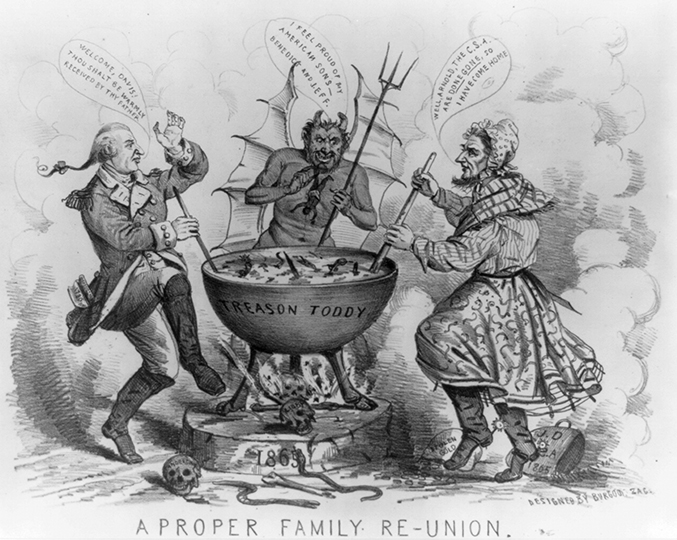 Summary: A biting cartoon showing Confederate president Jefferson Davis in league with both the devil and Revolutionary War traitor Benedict Arnold. Arnold and Davis stir a cauldron of "Treason Toddy," a brew into which the devil drops miniature black slaves. The devil holds a pitchfork and gloats, "I feel proud of my American sons–Benedict and Jeff." Davis, dressed in a bonnet, shawl, and dress (see "The Chas-ed "Old Lady" of the C.S.A.," no. 1865-11), explains to his fellow traitor, "Well, Arnold, the C.S.A. [Confederate States of America] are "done gone" so I have come home." Arnold greets him, "Welcome, Davis! Thou shalt be warmly received by thy father." At the cauldron base, marked "1865," lie two skulls, marked "Libby" and "Andersonville,"–no doubt intended to represent Union victims of the two notorious Confederate prisons Libby and Andersonville. Copperheads writhe on the ground. Near Davis's feet are a bag of "Stolen Gold" and a valise marked with his initials and "C.S.A. 1865."
I lift a bowl of "treason toddy" to today's confederates. Bon Appétit.