Ron DeSantis is scared of kids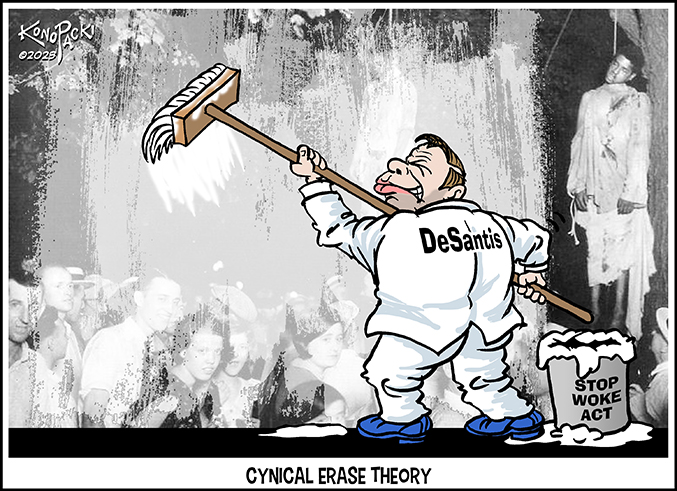 By Mike Konopacki
The recent statewide walkout of Florida high school and college students may be Gov. Ron DeSantis's worse nightmare. They abhor his "Stop Woke Act" and other laws that restrict gender and race studies, essential Black history and freedom of speech. They are informed, committed, and brave and span color and gender lines. And now they are part of the history he is so determined to suppress.
It would be a mistake to look at that history as a series of flashpoints. Rather, it is a continuum grounded right here in St. Augustine, Florida, since 1738 when Fort Mose became the first free Black settlement in what is now the United States. Africans fleeing British slavery took the underground railroad south to Spanish Florida where they were freed – if they were baptized Catholic and the men joined the Spanish military. St. Augustine is Florida's first sanctuary city.
Lincolnville, a neighborhood in St. Augustine, was settled in 1866 by freed people and Colored Troops returning from the Civil War. They called it "Africa." Renamed in honor of the Great Emancipator, President Abraham Lincoln, it remained a center of Black culture and resistance as Jim Crow laws took hold to control the former enslaved and their descendants.
The area was fertile ground for the Civil Rights Movement of the 1950s and '60s, spurring St. Augustine's children – at least 18 years before DeSantis was born – to make history in the midst of KKK territory.
Eight students from Florida Memorial College staged a defiant 1960 sit-in at a segregated Woolworth's lunch counter. They were refused service and arrested. Three years later, nine teenagers were arrested at another Woolworth's sit-in. The St. Augustine Four who refused to sign pledges not to protest again spent six months in juvenile detention.
Protests escalated into 1964 when 150 students walked out of Richard J. Murray High School and marched to a sit-in at the Ponce de Leon Hotel dining room. Multiple arrests ensued. Black kids led boycott marches when their parents were threatened with job loss for protesting. Dr. Martin Luther King, Jr. was with them as they carried signs: "Don't Buy in Segregated St. Johns County." Mimi Jones, 17, joined a "swim-in" at the Monson Motor Lodge pool where motel owner James Brock dumped muriatic acid in the water to repel protesters. An outraged President Lyndon B. Johnson signed the 1964 Civil Rights Act a few days later.
While DeSantis pursues a shockingly racist agenda, he really isn't all that unique. In 1913, Florida governor Park Trammell signed a law prohibiting white teachers from teaching Black students, which forced the arrest of three white Catholic nuns at St. Benedict the Moor School in Lincolnville. Circuit Court Judge George Couper Gibbs dismissed the case because the state, he ruled, could only enforce it for public schools not private schools.
Though Gibbs didn't share DeSantis's fear of education, he did share his racism. He said the white race was "best fitted" for teaching the inferior race, noting: "To say such teaching would have a tendency to promote social equality among the races and thus be opposed to the good morals of the State is to insult the superior race," i.e. Blacks could never achieve social equality to whites, so there was nothing to fear from educating them.
However DeSantis brands it, his hype on "woke" indoctrination is easily exposed . NAACP Legal Defense Fund director Janai Nelson challenged him in a recent New York Times essay blasting the "false morality of ignorance and hollow patriotism as justification for barring students from discussing uncomfortable facts… [Y]oung people of all races benefit from an accurate and inclusive education. Students who are taught factual history don't see themselves as victims or villains."
Jim Crow DeSantis knows this. Since education is his enemy, student ignorance is his strength. He fears that Black and white kids are so smart that they must be protected from knowledge lest they become compassionate human beings and, God forbid, activists for equality and justice. They would be in excellent company.
Mike Konopacki is a St. Augustine based educator, author and nationally-syndicated political cartoonist with partner Gary Huck at Huck/Konopacki Cartoons
---
The quote above is part of the ruling by Circuit Court Judge George Couper Gibbs:
"The Negro, belonging as he does to an inferior race, is not among us of his own will, but because he was brought here by the white and superior race. By nature, childlike, but a few years from slavery and dependence upon his master, with few of his own race in any way qualified to impart to him the knowledge which is his right, it is unreasonable to say that the legislature of any enlightened State intended to prevent one of the superior race from imparting to him that instruction which would make of him a decent, law-abiding and God-fearing citizen. Already our criminal courts are filled with the ignorant of that race to the great cost of the taxpayers. Such construction upon this section, instead of promoting the general welfare of the State, would tend in exactly the opposite direction. The teaching of the Negro in Sunday Schools and day Schools by those best fitted for such work, the superior and educated white race, would cease to the great perhaps irremediable loss to the State, and that race left to itself without the instruction and guidance of the white race would doubtless relapse into a state far worse than at present. To say that such teaching would have a tendency to promote social equality among the races and thus be opposed to the good morals of the State is to insult the superior race and ignore the relative status of teacher and pupil."
Circuit Court Judge George Couper Gibbs
Ex Parte Sister Mary Thomasine, Law No. 778, Docket No. 3, Page 97.